lol - I LOVE this phrase @EddieGarrison == "I live in our brand's analytics" - great visual.
lol @phylliskhare It's true though! When people say "listen to your audience", this is where it's done.
@EddieGarrison @phylliskhare - thanks for reading and commenting here! I love all the additional thoughts and ideas on organic social media as it pertains to Facebook (stay tuned for other platforms, too!). As an organic strategist, I partner with FB ad agencies: I've found this to be the most powerful way for my organic content to do well and their ads to perform best. win=win
The purpose of this article is to encourage smm to try, test and to combine features to get the best results. We know that one-size-fits-all does not apply to social media!
Totally agree as well! I work with many nonprofits in a specific area (Western Iowa/Eastern Nebraska with some South Dakota and Missouri thrown in for good measure), and many of our communities & target audiences are still on Facebook.
They may use it in different ways than they used to, but they are still there. Whether its in groups, or on local pages, or looking for events available to them, we still get organic engagement on Facebook that outpaces other channels by at least 35% across the different nonprofits that I work with.
(The thing I hate the most is the assumption that social media marketers outside our area - mostly the ones on Twitter telling me "Facebook is dead" - is that I'm "only talking to boomers." My most successful organic campaign in the last year spoke to parents of children age 0-5, and the last time I checked, those parents aren't boomers. ;/)
@corrie that's is a great testimonial to Facebook, for sure! I used to live in South Carolina and worked with hyper local small businesses. They are still seeing success on Facebook. The non-profit I currently support also sees success using Facebook. Thanks for your insights! Much appreciated. This post might need a follow up!
Long live Facebook!
I'm actually just glad I'm not the only one because I feel like all I do is pull out my "Well, actually…" card.
(I wish we didn't have to be on FB, because I'm not personally active on it, but I spend a lot of time on it for work!)
@corrie Same here! As a community manager I am on Facebook often, but for personal use, I like messenger!
Check out this beauty from McDonalds.
I saw this earlier as well and loved it!
BRB, going and begging for cherry pie and Salad Shakers…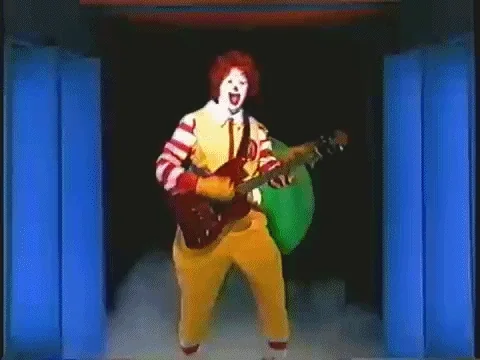 Yes to all of this, @dorien! I especially love "stop throwing spaghetti at the wall" and create a plan.
Success (whatever that means to each individual) does include time, effort, and a smear here and there of elbow grease. Get clear on your goals, develop a strategy, move into action, stay consistent, and bring value.
Thanks for the tips for moving the dial!
You have cherry pie? We only get Apple!
Waving! Hi Lisa. This is so true. I mentor a lot of small business owners and invariably they have no strategy or basic plan… just throwing at the wall. I am big on organic especially for local businesses, many just dont have the budgets needed for ads to work well!
We HAD cherry pie. Haven't had it in ages; I last remember having one in the 90s. Just apple here now, too (as far as I know).
i don't think we ever had anything but apple. I had my first one in years the other day and they seemed smaller , less filling and i was underwhelmed and then filled with maccas remorse !
BOOM! @lisa
FAR too many rely on whatever they read on "Best Practices" blog posts and so-called experts in the social media field to inform them on what to do. And that's a major issue! What works for your brand may not work for my brand. Your audience is most likely different than my audience.
You HAVE to plan for your brand! Not someone elses.
So true. I've had so many clients say whats the one thing that works in (industry) - and I say you need to find what is right for you. Sure there are some basic steps we take in set up, but you need to ide4ntify your audience, develop a strategy (flexible to accomodate change ), understand who you are talking to, give value, check analytics, look at what is resonating with your audience… actually post something… test, don't sell with every single post - get human! the list goes on, its not generic.z
@communifi
right on. (I feel we are preaching to the choir sometimes, but it's good to understand all of this so we can continue to educate our clients and potential clients!)