If you could work anywhere or have any client…who would it be?
This is an interesting question! If I were to work for any business, I would love to work for Starbucks as their lead social media manager. If I were to have any client, I would love to be the lead social media agency for John Maxwell!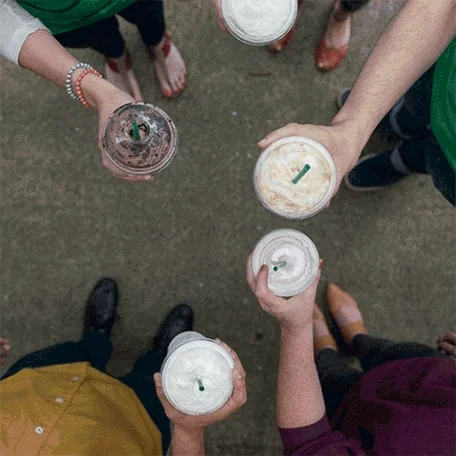 I honestly think I could live in San Diego! I know it was the conference vibe etc at SMMW but I love that place!
Client wise: it would have to be a company with strong ethics and an inclusive working environment and prepared to think, and act, out the box. Hiut Denim are definitely up there!

Love this @sarah2 working in San Diego all the time would be amazing!!!
I love where we live in Orlando, so I'd work from here. I'd go with Disney as my "dream" client to work with. I've actually done work with them in the past, but not as a social media marketer. There are a LOT of stories to be told with that company & their fans. Plus, I'm a HUGE Disney guy! The main reason we moved to Orlando was to spend more time at the parks.
My goal is to move to Mexico (I have a location chosen and am planning to move within 5 years), and my perfect job involves helping food businesses create and build their brands and connect with their communities. I provide graphic design, food styling & photography, product development, branding, marketing and social media services.
I love working with clients who are keen to invest in building a community around their brand.
I saw a job opening at Slack a few weeks ago that was tempting, but I would rather continue as a consultant/agency and innovate with community building for corporate brands.
I love and hate when this happens!!! I think it's a good idea to keep your eyes open for new opportunities…but I've been in the same spot as you…working as a consultant/agency is the best move. Until it's not LOL. Thanks for sharing @kamichat
I'd go one of two completely opposite directions. Either San Diego on Mission Beach or Jackson Hole, Wyoming. Either way beautiful scenery. However one is big city life and the boardwalk. While the other offers more nature and less population.
This is a difficult one for me to answer because I have had the opportunity to work for brands that go from the kitchen table to well-known internationals to award-winning TV shows.
The similarity between all the brands that I've worked with is they want to message out to as many people as possible with the least amount of stress and friction.
To be perfectly honest, I'm really happy with where I'm at, both job-wise and location-wise. I work for a small tech company, who brought me on after following my personal social media for years, watching me make it in the top three "Best Local Twitter Feeds" in a local magazine for three of those years. Since then, I've nuked most of my personal presence, mainly for my own mental health, and just post stuff I'm building on Instagram, and do most of my work off of the main platforms, to avoid "trending" topics and what not.
I guess a major thing is, I'm in my mid-forties, and I've done a lot since I graduated high school. Lived around the country, held some interesting jobs, learned some unique skills, and now I'm kind of settled, able to work on my hobbies, work my own hours, and I'm able to spend time with my family.
So I'm good.
I new this was going to be your choice! However, I didn't know that you had done work for them before? That is awesome.
That is awesome! Where in Mexico are you thinking? My wife and I have traveled there two or three times. That is amazing that you offer so many different services! Do you have a favorite service you like to provide?
YES!!! I too am a community loving nerd! What do you love most about building a community around a brand?
There are so many advantages to building a vibrant brand community, but most brands aren't willing to put in the investment (mostly in human resources). But, as you know, the benefits are significant.
It builds brand loyalty
Gives you an inside look to your customer problems so that you can build products/services/content that are just for them (faster to market and more successful)
Customers help each other with how to best use products/services (customer service savings)
They let you know when there is a problem before it gets out of hand. They also fight off trolls. (Reputation management)
They let others know about your product/service (marketing boost, also makes your ads more effective)
That is freaking awesome man! It sounds like you have a done a lot and earned your chill time to now do whatever you want. What is your favorite side project you are working on now?
I have a dream client - they are a small woman-led HR company with great ethics - they love my work, I love what they stand for AND they are on schedule with their meetings and blogs which makes our teams work smooth and easy. Plus they have invited me to join their book club. Yay for small businesses!
sounds like a joy!!! Hope you find them!